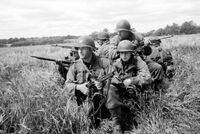 Miller's men were the group of soldiers, led by Captain Miller, that were ordered by Lt. Col Anderson to find Private James Ryan.
They succeeded in their mission, but it resulted in the deaths of all but two of the soldiers.
Miller's Men
Edit
Ad blocker interference detected!
Wikia is a free-to-use site that makes money from advertising. We have a modified experience for viewers using ad blockers

Wikia is not accessible if you've made further modifications. Remove the custom ad blocker rule(s) and the page will load as expected.