Private Fallon
Rank
Private
Affiliations
United States Army 101st Airborn, 506th PIR
Birth
Approx. 1907 (based on actor Marc Cass' age[1])
Death
June 13th, 1944 (not confirmed)
Weapon
M1 Garand
Private Fallon
was a Paratrooper, and one of the
Ramelle Paratroopers
.
Biography
Edit
He jumped with the 101st Airborne in Normandy on June 6, 1944, for Operation Overlord. He was then rounded up by a 101st Colonel to go to Ramelle under the command of Captain Jennings. Jennings was eventually killed during the bombing, and Corporal Henderson became the new CO. Eventually, Miller's Men joined, and Captain John H. Miller became the new CO, forming the Ramelle Defenders. Fallon then participated at the Battle at Ramelle, where he hid in an alley, and shot at German Infantry with his M1 Garand. When he runs out, he is hit by a bazooka explosion, sending him flying into a window. He is presumed dead by the Saving Private Ryan Online Encyclopedia.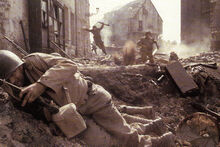 References
Edit
Ad blocker interference detected!
Wikia is a free-to-use site that makes money from advertising. We have a modified experience for viewers using ad blockers

Wikia is not accessible if you've made further modifications. Remove the custom ad blocker rule(s) and the page will load as expected.